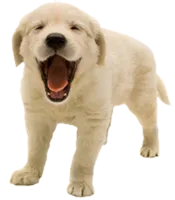 In your search for a veterinary facility, we believe you should expect high quality care as well as great service. Our goal has been to assemble a veterinary health care team committed to providing exceptional client service and veterinary health care.
Your pet's annual vet check-up will include a total physical exam. Because even the most cooperative pet may not readily go-along with a tooth and gum brushing, an annual teeth cleaning by your veterinarian maybe in order. Like you, your pet can lose his teeth due to decay and neglect. Geriatric (over 8 years of age) pets should have periodic labwork to screen for common diseases.
Choose a veterinarian who is calm, compassionate and willing to explain all the procedures your pet undergoes. Try to find a vet with whom both you and your pet feel comfortable. Try to have it convenient, choose a clinic with qualified staff and facilities to undertake surgery and perform procedures requiring anesthesia, such as teeth cleaning. Because of the general risks inherent to anesthesia, especially for very old, very young or very ill pets, your veterinarian will likely suggest a few exams, including a chest X-ray and lab work of blood and urine, before your pet is anesthetized. During the procedure he might need an IV drip; antibiotics may be necessary before and after.

Your veterinarian may refer you to a specialist, veterinarians who have completed advanced studies in specialties such as internal medicine, surgery, and emergency care, if your pet must undergo a procedure that requires more precise knowledge and experience.